Sample/Wholesale

Price

Shipping

Carrier

Buy it Now

1 pcs sample

789 USD
/pcs

USD

DHL/UPS 7-10days




2 pcs

750 USD
/pcs

USD

DHL/UPS 7-10days



FSN-801 80W is a solid-state wideband FM Radio Transmitter & EXCITER. Standard FM broadcast band frequency 87-108MHz, 100KHz frequency step, RF output power continuously adjustable from 0 to 80 watts.
Features:
————————————————————–
>Professional stereo sound with excellent separation.
>Standard 19″ 2U rack, clean design and high quality manufacturing.
>Low distortion and good Signal/Noise ratio.
>Modular construction, internal boards can be replaced one by one.
>Built-in CPU system for controlling and monitoring.
>Advanced TEMP protection – SWR protection.
>In our opinion the best quality/price ratio possible.
Specification:
—————————————————————–
Frequency :87-108MHz, can be customized according to the user 70 ~ 120MHz.
Frequency Step value: 100KHz 10KHz can be customized by the user or 50KHz.
Modulation: FM, peak deviation ± 75KHz
Frequency stability: <± 100Hz
Frequency stabilization mode: PLL PLL frequency synthesizer
RF output power: 0-80 watts ± 0.5dB
Harmonic suppression: <-65dBc
RF output impedance: 50Ω
RF output connector: N type female
Audio Input Connector: BNC, RCA
SCA and RDS input connectors: BNC female
Pre-emphasis: 50us, 75us (user selectable)
S / N ratio of mono:> 70 dB (20 to 20KHz)
S / N ratio Stereo:> 65 db (20 to 15KHz)
Stereo separation:-50dB
Audio Frequency Response: 80 ~ 15000Hz
Audio distortion: <0.5%
Modulation: 15%
Input Level:-15dBV
Main Power Requirements: 220V or 110V
Operating temperature range: -20 to 45
Working mode: continuous work
Dimensions: 483 x 88x 320 mm (excluding handle part), standard rack 19 inches 2U.
Reference range: 10Km-15Km
Weight: 12kg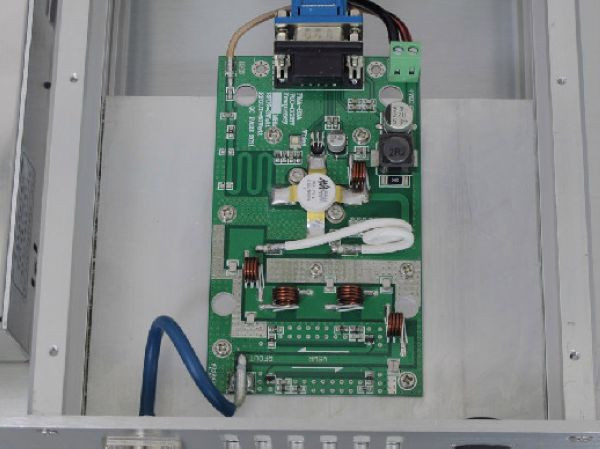 Difference between others:
How far(long) the transmitter cover?
The transmission range depends on many factors. The true distance is based on the antenna installing height , antenna gain,  using environment like building and other obstructions , sensitivity of the receiver, antenna of the receiver . Installing antenna more high and using in the countryside , the distance will much more far.
EXAMPLE 5W FM Transmitter use in the city and hometown:
I have a USA customer use 5W fm transmitter with GP antenna in his hometown ,and he test it with a car, it cover 10km(6.21mile).
I test the 5W fm transmitter with GP antenna in my hometown ,it cover about 2km(1.24mile).
I test the 5W fm transmitter with GP antenna in Guangzhou city ,it cover about only 300meter(984ft).
Below are the approximate range of different power FM Transmitters. ( The range is diameter )
0.1W ~ 5W FM Transmitter :100M ~1KM
5W ~15W FM Ttransmitter : 1KM ~ 3KM
15W ~ 80W FM Transmitter : 3KM ~15KM
80W ~500W FM Transmitter : 10KM ~30KM
500W ~1000W FM Transmitter :  30KM ~ 50KM
1KW ~ 2KW FM Transmitter : 50KM ~100KM
2KW ~5KW FM Transmitter : 100KM ~150KM
5KW ~10KW FM Transmitter : 150KM ~200KM
Sample/Wholesale

Price

Shipping

Carrier

Buy it Now

1 pcs sample

789 USD
/pcs

USD

DHL/UPS 7-10days




2 pcs

750 USD
/pcs

USD

DHL/UPS 7-10days